Can you get more from your digital press?
As commercial digital printers we are at the mercy of our customers. In what ways? How often are your customers own files what we would call "print ready"?
If they supply you PDF files is the resolution high enough? Is there any bleed included? Are there crop marks?
Some customers can be educated and provide files that are all of the above, but you know that you will to impose that single business card onto SRA3 or A4. You may also have a business card cutting machine that needs specific gutter sizes and a special mark added for detection. Some files may have crop marks that are simply too far away from the page to be able to fit on an SRA3 sheet. Don't you just wish you could automate these tasks and have a one stop solution to solve these issues?
X-Press OnDemand provides all the tools you need to be able to remedy all these issues and more within our amazing X-Press OnDemand workflow. It contains powerful SRA3 imposition tools which have been designed to increase productivity. It is very flexible and can be used for a wide variety of applications. It allows the user to simply and quick prepare repetitive impositions as well as complex combinations of different imposing styles. Printing and design companies will love the simplicity of the fantastic "automatic" mode, where an imposition can be calculated automatically. Of course, all of these parameters can be manually adjusted if required or necessary. If you do not use some of the functions of the X-Press Workflow, the individual palette/windows can easily be closed which makes the program control even easier and the interface simpler.
This software is included with our flagship digital printing solutions and is another reason why X-Press OnDemand digital presses are the solution of choice and the market leading digital printing solutions for small to medium sized printing companies.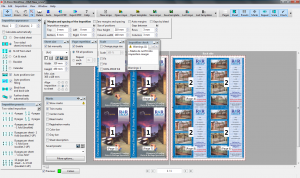 For more information visit https://xpressondemand.com/x-press-workflow/