[smartslider3 slider=29]
X-Press OnDemand x-feed technology

– A Registered Patent Office Design…

X-Press OnDemand continue to set themselves apart from the crowd with their latest innovation – x-feed positive pick up technology.
[two_third]
Before we release any new digital system we exhaustively test every aspect of it's performance. All of our systems are the best in their classes, however, that doesn't mean we can't improve them even further!
Minder free operation
Over the years with our decades of experience, we have been able to invent many highly popular and successful tools and additions to our digital printers. The latest is a culmination of many years work. Our brief was to make the MP tray of our systems even better, more reliable and give it a longer lifespan. In particular we wanted to increase the versatility of our systems so that many more really troublesome substrates would feed without any issues.
After many prototypes we finally produced a complete solution that fits the remit that we had and also can be built in our UK headquarters. Using 3d printing technology we are able to manufacture the x-feed unit body to exactly to fit the product. Using hover technology the sheets are separated and cushioned. This not only provides problem free feeding, it also increases the life of the friction feed as much less friction is needed to feed the sheets. The x-feed gives exceptional results even on statically charged papers which are notoriously difficult to stop from multi-feeding.
Yes, even when printing on thick and unusual substrates on an X-Press OnDemand press, you can simply load the MP tray, switch on the x-feed and you will see the sheets separate and hover above the tray. It's as simple as that!
A great option
The x-feed positive pickup technology is optional with our X-Press OnDemand Fusion 4 and Fusion 5 units. This technology is a patent office registered design and is owned, designed and manufactured by X-Press OnDemand.
When you purchase an X-Press OnDemand system you are not just buying a printer, you are buying into decades of experience and innovation in digital printing technology at a truly affordable price!
[/two_third]
[one_third last]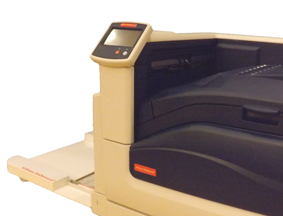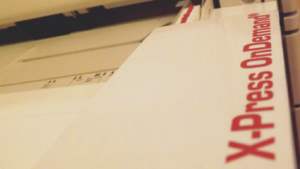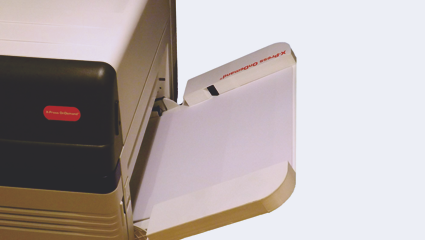 [/one_third]

With over 20 years of experience in the digital printing and prepress industry you can be sure we will always be willing and able to help and support you and your investment. During these years X-Press OnDemand have led the small digital press market and created many highly successful products that many of our competitors have sought to imitate.
[toggle title="Get Print Sample Pack from an x-feed enabled Digital Press"][box style="notice"]
Get sample pack
Fill in form below and we will send you your FREE X-Press OnDemand sample pack
[/box][/toggle]
Call 0117 9401 402

now to arrange a demonstration and take your business to the next level!

[qcf id="quickform"]